Posted by Post Cap Depot on 3rd Jan 2017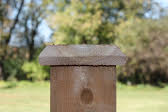 Many fence companies sell what they call a "Post Cap" that is nothing more than a piece of wood nailed directly into the top of your fence post. Logic tells you this is a terrible way to keep water away from the end grain of your posts.
Every one of these "post caps" will eventually warp and look awful!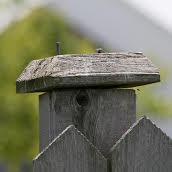 However, you as the consumer have the power to dictate what post cap you want for your fence. Our Miterless Traditional Pyramid wood post cap can never warp because it "slips over" your post as opposed to simply sitting on top of the post.
Very few fence companies will offer you a choice.
They will simply include a flat, beveled piece of wood and call it a "Post Cap". Force your fence company to use a slip over Miterless Post Cap™ from Post Cap Depot to protect your posts from absorbing moisture and eventually rotting.
---
Copper, Steel and Wood Fence Post Caps from Post Cap Depot!
| | | | |
| --- | --- | --- | --- |
| | | | |
| from $11.95 | from $10.99 | | |
---
Attention Fence and Deck Manufacturers
STAND OUT and OFFER LIFETIME SATISFACTION on wood and metal fence post caps! Guarantee your customers that their included post caps for their fence won't ever split at the corners. Your competitors will include cheap post caps that break apart and become worthless after a year or two with their fence installations, while you can provide lasting protection to families and business owners who want to extend the life of their investments.
Copper fence post caps provide the same benefits as our miterless wood products while offering a more sleek and attractive design. Copper fence and deck post tops naturally add visual appeal to any home or yard accessory, whether it's a fence, deck, pergola, arbor, lattice or gate. Stainless steel fence caps do the same thing, and along with our excellent customer service, Post Cap Depot just can't be beat!
All our Miterless Post Caps™ are guaranteed for life never to split at the corners, and are mounted with Liquid Nail. All copper and steel post caps can be sprayed to keep their shiny finish, or left to patina and weather naturally, and come with screws for secure fastening.