Posted by Post Cap Depot on 9th Mar 2015
Post Cap Depot products fit all standard and some specialty sizes of fence and deck posts
Whether you're installing a fence, pergola, arbor, deck, or simply replacing parts on an existing one, copper post caps from Post Cap Depot will enhance your yard while saving you money. Deterioration is an inescapable part of exterior decorating so a good defense is the best strategy to prolong the life of your fence posts and outdoor furniture.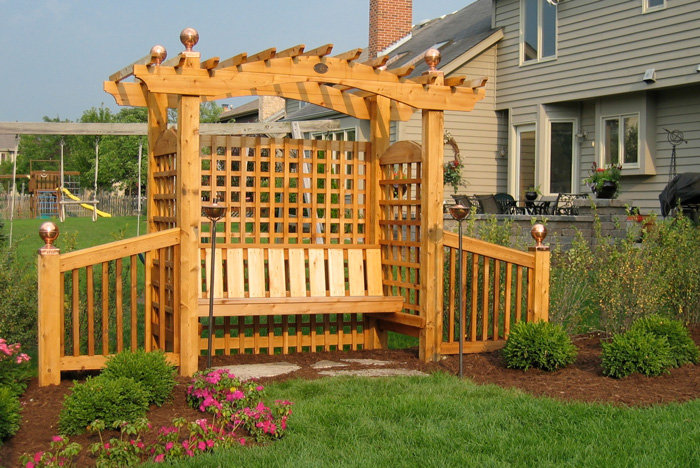 This arbor/bench can be expected to last over 20 years with the right safeguards against weather wear in place. Stained posts and planks, tightly sealed joints, and covered posts all do their part to protect every inch of the design. As the materials soften to the elements over time you can watch your exterior space settle into its natural state without worrying about whether it's ready for it or not. Don't let your investment suffer at the hands of mother nature!
The Miterless Advantage is REAL!
Let Nicole walk you through the unique advantage that Post Cap Depot Miterless post caps can offer. Two and a half minutes is a small price to pay for a lifetime of benefits for your fence.
Contact us with questions about how our products can save you time and money. Whether it's with copper, steel, or wood, there are plenty of ways to provide the best protection for your fence posts; but the customer service, quality, and prices at Post Cap Depot simply can't be beat.